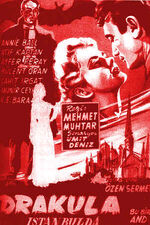 Drakula İstanbul'da (Dracula in Istanbul) is a Turkish 1953 film version of Bram Stoker's original novel Dracula.
The screenplay was based on a 1928 novel by Ali Riza Seyfi called Kazıklı Voyvoda ( "Impaler Voivode"), and is more or less a translation of Stoker's novel, but there is no Renfield character and Güzin, the "Mina" character, is a showgirl given to performing in revealing outfits. Drakula/Dracula is played by balding Atif Kaptan. Both the novel and the film make an explicit connection with the historical Vlad the Impaler, the Prince and three-time Voivode of Wallachia.
References
Edit
Turkish Ministry of Culture and Tourism
Drakula İstanbul'da at the Internet Movie Database
Ad blocker interference detected!
Wikia is a free-to-use site that makes money from advertising. We have a modified experience for viewers using ad blockers

Wikia is not accessible if you've made further modifications. Remove the custom ad blocker rule(s) and the page will load as expected.